Fabrication Facilities
Total Area: 1,266,338 M2
Shop Area: 149,556 M2
Office Area: 29,564 M2
Laboratory Area: 2,812 M2
Standing Property: 181,932 M2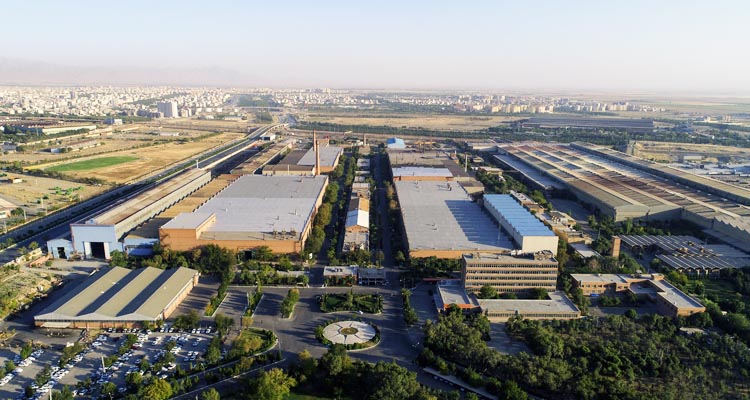 Workshop facilities of Equipment Fabrication Group
Rolling Machine:
Cold forming up to 200 mm, hot forming up to 240 mm thickness
Plasma Cutting Machine ,Cutting up to 70mm thickness for SS and 300mm for CS

Stress Relieving Furnace:
Dimensions: L=24m, H = 9m, W = 7.5m
Hydraulic Jack up: Capacity up to 800 tons
Radiography Chamber: L=17.7m, H=7m, W=10.5m
For radiography of heavy equipment capable of using cobalt 60 source

Plasma Cutting Machine
Cutting up to 120 mm thickness for SS and up to 300 mm for C.S.
Sandblast Salon: Equipped with industrial dust collector as per environmental standards
Submerged Arc Welding (SAW) Machines
Capable of welding thick plates

Hydraulic Dishing Press
Press capacity=500 tons, plate thickness=32 mm, plate diameter=6000mm
Heavy steel shop
Equipped with heavy overhead cranes and high roof for fabrication of heavy and high equipment

Hydraulic Dishing Press
Press Capacity: 500 tons, thk. = 32 mm, Dia.: 6000mm
Stress Relieving Furnace, Dimensions: L = 24m, H = 9m, W = 7.5m
Radiography Chamber, Dimensions: L = 17.7 m, H = 7m, W = 10.5m
12-and-14-ton Electric Arc Furnaces: To produce various carbon steel, semi-alloy steel, alloy steel and stainless steel.

Ring Rolling Machine:One of the corporate strategic equipment which is capable of producing rings up to a diameter 2.5 m.
1600-ton
Hydraulic Press: this is capable of producing drilling valves and wellhead equipment.
3150-Kg Bridge Hammer: this is used to produce round and square sections.

5.8-ton Closed Die Bridge Hammer: this is used to produce closed-die parts. The main products of the machine are pressure flanges required in oil & gas industries.
1000-tonHydraulic Press: The equipment is used to produce petals of spherical tanks.

1-and-3-ton Pneumatic Hammers: to produce flanges and symmetrical parts.

1000-and-2500-ton Presses: mainly used to produce parts for automobile gearbox as well as flanges up to size 4".

Heating Furnaces: including 60-ton wagon type, 80-ton push type, 3-and-7-ton walking beam, 4-ton box type and 3-and-5-ton rotary type.

Heat Treatment Furnaces: including wagon type ones with a capacity of 12, 15, 30 and 60 tons.

Rolling Machines: with a capacity of 307 tons.
Corrugate Machine, OD=64", thk=22mm
Hot Forming of Furnace& Expansion joint
Carousel Machine, Machining up to weight 100 ton ,10m Diameter , 4m height ,Accuracy 0.01 mm
Boring Machine, Machining up to weight 12 ton, 3Axis 3m *3m*2.5m, 4Axis Control, Accuracy 0.01 mm
Heavy Drilling Machine ,Longitudinal Movement 10m,Vertical Movement 3m, Arm Length 5m,100 Dia.

Workshop facilities of Machining & Assembly Group
CNC machines and high precision heavy duty machine tools, is capable of accomplishing projects such as machining main parts of hydro-electric turbines including head cover, bottom ring, rotor hub and machining high diameter rings and flanges up to 57".
Specifications of some heavy duty machine tools of Machining and Assembling Production Group:
1) Vertical turning/milling CNC Machine
- Max. Work piece weight: 100 tons
- Max. Work piece diameter: 12m
- Max. Work piece height: 4.7m
- Machining precision: 0.01mm
2) Horizontal boring CNC machine
- Max. Work piece weight: 12 tons
- Max. Movement of the 3 spindles: 3×3×2.5m
- 4-spindle control
- Machining precision: .01mm
3) Heavy duty turning machine (TP 800)
- Max. Work piece weight: 10 tons
- Max. Work piece length: 8m
- Max. Work piece diameter: 1600mm
- Machining precision: 1mm
4) Gantry milling machine
- Max. Work piece weight: 50 tons
- Distance between the columns: 2.4 m
- Bed dimensions: 2.25×4m
- Max. Horizontal movement: 8.5m
- Max. Vertical movement: 2.5m

Workshop facilities of Metallurgy Group
Steel making and casting workshop
in this workshop, molten metal production is accomplished using two electric arc furnaces and a vacuum oxygen decarburization convertor (VODC) with the analysis control of the produced steel carried out via a quanta meter.
Forging and forging development workshop
Open-die and closed-die forging methods using various hammers and presses of varying capacities, making rings with the use of ring rolling machine, and several heat treatment processes employing different furnaces and heat treatment equipment of differing capacities are carried out in the workshops mentioned above.

Steel ball making workshop
Steel grinding balls with different diameters (under 100m dia.) are produced using roll forging and continuous heat treatments.

Finishing workshop
Different finishing processes such as shot blasting, grinding, non-destructive tests, welding, and packing are carried out on the products in this workshop
Tool making workshop
Various dies, tools and equipment required for casting and forging activities/machines are produced in this workshop.